Blood Bash 2022
02/12/2022 @ 10:00 am

-

5:00 pm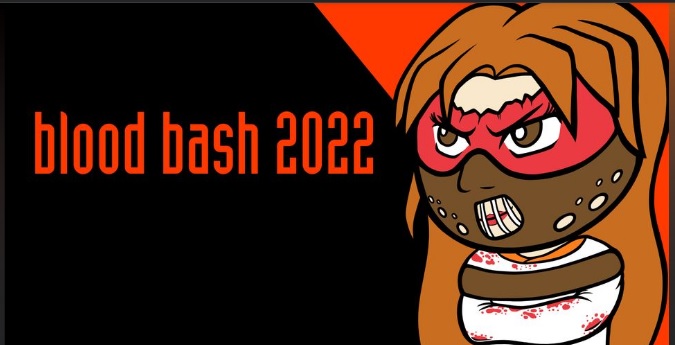 GLAHW will make their first appearance of 2022 at Blood Bash 2022. Come out and join us for some fun.
~~~~~~~~~~~~~~~~~~~~~~~~~
Blood Bash 2022
is officially scheduled for Saturday, February 12th, 2022! This is the day before Super Bowl Sunday, but you won't have to wait until the day of the big game to see some amazing entertainment that weekend – as we are once again offering up TWO days of amazing independent horror shorts and bonus movies!
With Blood Bash 2021 being scratched due to COVID, 2022's edition will contain an entire year of extra eligible films – – – so we're hoping to show even more movies than ever before!
VENDOR ROOM
The vendor room will be THE PLACE to be again! Last year we had over 40 tables of vendors selling horror merch, and 2022 promises to bring back amazing vendors selling anything from prints to shirts to baby toes in a bottle – – – yep, if it's gore or horror you may find these things and more!
FILM FESTIVAL
There will once again be an International Horror Film Festival and we will be awarding awards for:the following.
Best In Show (Short)
Favorite Male Performance
Favorite Female Performance
and maybe a few new awards as well?
CARNIVAL GAMES:
The carnival games will be returning! That's right, kids! You will once again be able to play some of your favorite and most twisted carnival games at Blood Bash, and as always they will be free! We will see the return of the games from 2020/2019 and maybe even have some new games to play!
COSPLAY AND SCREAM QUEEN CONTESTS:
Rumor has it that these will be moved up and take place during the regular convention hours in an effort to get the most cosplayers possible to be in them! 2020 saw a TON of amazing cosplays that weren't around for the actual contest and we're taking that issue head on in 2022! More on this to follow.
HORROR VIDEO GAME AND TABLETOP GAMES:
You know these will be back! Play some tabletop games, win tickets! Beat certain challenges on games like Castlevania or Zombies Ate My Neighbors – win tickets!