MMLB X: MASQUERADE
10/21/2017 @ 8:00 pm

-

10/22/2017 @ 1:00 am

$10.00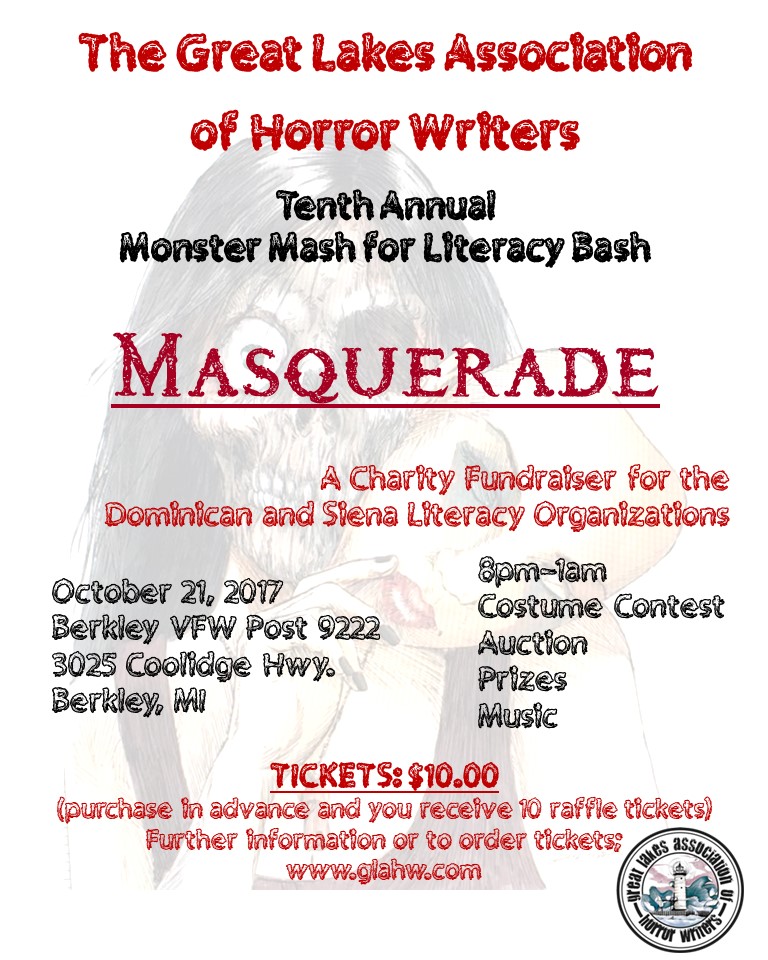 "But the Prince Prospero was happy and dauntless and sagacious. When his dominions were half depopulated, he summoned to his presence a thousand hale and light-hearted friends from among the knights and dames of his court, and with these retired to the deep seclusion of one of his castellated abbeys."  – THE MASQUE OF THE RED DEATH, by Edgar Allan Poe (1842)
You are being summoned, Friends. Take refuge behind our strong and lofty walls from the pestilence (we often call them "people") roaming unchecked throughout the land. Don your finery and hide your true identity behind your best mask, and JOIN US  for an evening of measured debauchery and merry-making.
We can't promise you won't die of the plague (one day) but we can bring all manner of creatures across the land to party like Death, Himself will be there.
He will – we're auctioning him off!
Hide among the Wicked and the Wonderful in masked costume (don't worry – we'll have extra masks) and enjoy fine food with adult beverages at our 10th Annual Monster Mash for Literacy Bash.
This year's theme is MASQUERADE.
Costume contests, a Penny Social, music, and dancing, gates open to Berkley VFW Post 9222, October 21, 2017, at 8:00 p.m.
Rumor has it there will be a death-defying Trivia Contest that threatens to test even your savvy knowledge.
This is a CASH ONLY BAR, so please bring CASH to buy your booze. There is an ATM located across the street for your convenience so you can get CASH.
21+ please.  $10.00 in advance and $10 at the door. You may use a credit/debit card to purchase party tickets and raffle tickets.
Advance Ticket Purchasers will also receive ten (10) free tickets to the Penny Social for a chance at fantastic gifts and autographed books.
We've even prepared special drinks to help blur the lines of reality, and a 50/50 raffle that could help line your pockets.
Be sure to also enter our Special Auction where the lucky winner's name will be featured in every story of the annual anthology, Recurring Nightmares. Be the hero, be the villain, die a horrible death (note: the fate entirely is in the hands of the GLAHW authors).
Proceeds from this year's Masquerade Ball benefit the Dominican Literacy Center and the Sienna Literacy Center, and we are proud to make them our permanent charities, ensuring that people of all ages discover the magic and power of reading as well as improve their lives with a strong educational foundation.
BREAKING GLAHW MEMBERSHIP NEWS!!!!
Capt Tight Pants, our ethereal and omniscient Web Admin is offering this limited special offer for potential Members and party animals.
Join us for MMLB-X on October 21 in Berkley, meet the crew, have a great time, AND join GLAHW for $20.00. It's a savings of $10.00!
This is a limited time offer for new members only.
Offer ends 10/20/2017.
(You'll have the option to adjust the number of tickets purchased on the Buy page.)
Interested in being a Donor to the Penny Social (raffle)? 2017 featured such amazing items from:
Candlewick Shoppe
Artist Don England
Artist Steven J Bejma
Royal Oak Tattoo
Author Ken MacGregor
Author Bentley Little
Author Dean Koontz
Author Ken Macgregor
Essential Massage
If you'd like to donate to the raffle, please complete this form, or drop us a line at Secretary@glahw.com:
Details
Start:

10/21/2017 @ 8:00 pm

End:

10/22/2017 @ 1:00 am

Cost:

$10.00

Event Tags:
Venue
Berkley VFW Hall, Post 9222