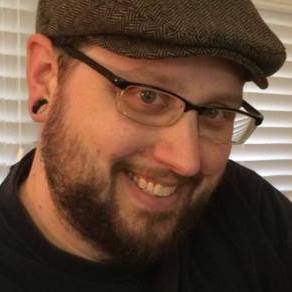 Man, those old emails just seem to pile up. Before you know it you're digging back through them trying to figure out how many balls got dropped. It doesn't seem like it's been more than a month since I received my "Welcome to the Group" email from Cap'n Tight Pants but, as time seems to do, the days and weeks slipped right past me. Now more than a month into my membership with the GLAWH and I haven't even had the decency to introduce myself.
So, without further ado, my name is Chad and I write middle-grade monster mystery books. The series is called Masterminds Incorporated and the first book in the series (and my first book ever), An Appointment with Fear, was released in June of this year. I'm currently working on the second book in the series, Don't Hold Your Breath, as well as working on an outline for a more grown-up oriented wilderness survival book that I'm hoping to write for NaNoWriMo. This latter work is as of yet untitled but, I'm working on the outline now so that come November 1st, I can start hammering it out.
A little bit about myself, I'm 40-years old and I live in Byron with my wife, our miniature Dachshund, Dasher, and our cat, Pfft. My dad was in the Navy so, growing up I never spent much time in any one location. I was born in Jacksonville, FL then moved to San Diego, CA. From there we traveled to Meridian, MS then Oak Harbor, WA. My father retired after 20-years in the Navy and, as part of his retirement, the Navy offered him one last, all-expenses-paid move so they chose to move back to my parents home state of Michigan.
As a youngster, I used to write up all kinds of zany stories and even made my own comic strips. The most notable of these – and to my younger sister's everlasting annoyance, the one my English teacher held onto to show his classes in the following years – was The Adventures of Indiana Beetle. As you can probably guess, the stories revolved around a beetle with a fedora and a whip made from blades of grass braided together. He would fight off field mice, scorpions, and the like. As I got older, I ventured more towards the high fantasy side of writing. My stories would focus mainly on elves and dwarves but never humans. I always figured that humans were normal and that made them boring. I continued to write until when, somewhere around the 9th grade, I decided to become somewhat of a troublemaker. My days of mischief last just under two years and as I entered the 11th grade, I realized that I needed to buckle down if I planned on graduating on time. And so I did. It took a LOT of effort to bounce back from two years of basically flunking every grade but I worked hard, took every extra class they'd let me sign up for and managed to graduate on time, and with a 3.9 GPA to boot.
After high school, I went on to work in the heavy duty diesel engine field for the next 10 years as a salesman for a company based in Morrice, MI. That's where I meet my wife. We were married in 2006 and the next year I decided to venture out and start my own business. I opened a tabletop hobby game store in Flint, MI (on Miller Rd. near the Genesee Valley Mall). It was called Gamers Sanctuary and it's still there to this day. I ran that for 7 years then sold the company to an employee and went back into the heavy-duty diesel engine world, but this time as a graphic designer, and that's where I've been ever since.
In mid-2017 I decided to dust off my keyboard and get back into writing. I wrote a couple short stories that some friends thought were pretty good. I wrote a five-part series about a Dwarf and two Elves on a dungeon delving adventure and, after the last part was posted, a good friend of mine said, "Hey! Why don't you write a book." And that's where it all started. It was just a small ember in the back of my mind at first. I didn't even really pay that much attention, to it to be honest. With that ember glowing away, I decided to write a story about a group of kids that run a detective agency in a town full of monsters. It was never intended to be a book but, as I approached the 70-page mark and the middle of the story was just coming into view, I thought it might actually be possible to turn this little off-the-cuff adventure into a full fledged book. Thus Masterminds Incorporated was born. Over the next several months I finished the first draft then revised, and revised, and revised, and then sent it off to an editor.
Now, having just turned 40 and with one book under my belt and the sequel halfway finished, I'm feeling both satisfied with what I've accomplished an anxious to see where this storywriting, world-building endeavor will take me!