That got your attention didn't it? Weirdo.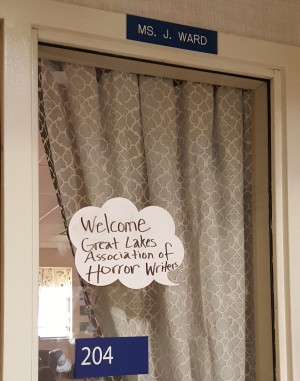 Technically, I'll be talking about my and MontiLee's experience with several classes of 10th graders and the art of writing, storytelling, and horror. I'm not saying we corrupted any of those young minds. But I can't guarantee we DIDN'T either.
A little while ago, Jennifer Ward, an English teacher at Ionia High School, reached out to GLAHW with a request. Last semester, her students studied what she called The American Dream. And now in the second half of the year they were beginning to study The American Nightmare, including authors like Poe and Elliott, as well as the Gothic horror styles of writing in general.
Smart woman that she is, Jennifer thought inviting a couple of horror writers to school might bring insight to her students about the horror genre and the process of writing. We were more than happy to help out and so MontiLee Stormer and I made the 2-hour trek to IHS to impart our knowledge onto the eager young minds in several of her classes.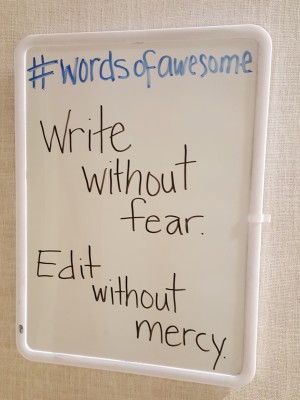 I was a bit nervous at first. Lord knows it's been a hot minute since I was in high school, let alone 15, so I wasn't exactly sure what to expect. But once that first hour began, I was pleasantly surprised to see how curious and engaging the students were. Sure, some were a bit shy about asking us direct questions but the classroom door covered in sticky notes helped out with that at first (more on that in a minute). By the time the third class was finished, I could hardly believe the day was over.
I've done workshops. I've done readings. Conventions are a regular scene for me and the group throughout the year. But I have to say I had so much fun being able to discuss writing and horror with a room full of teenagers. Their enthusiasm and delight and honest desire to actually learn something was a thing of beauty.
Thank you, Jennifer, for inviting us out to speak with your students. It was a wonderful day of exchanging ideas on writing and exploring the world of horror.
(For another perspective on the afternoon, head over to The Ionia Sentinel Standard and read Stan Sulewski's article: Sentinel Standard)
Now…for that sticky note comment above. Many students from Ms. Ward's classes wrote up a bunch of questions for us and posted them all over the classroom door. We were only able to answer a few so we thought why not make them available to the rest of GLAHW who couldn't make it to Ionia and see how their answers might add to the students' learning experiences.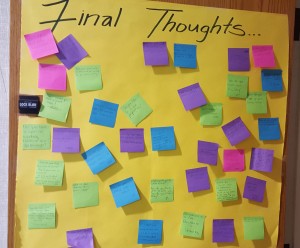 Ms. Ward will scan all the questions and email them over to me. Once I receive them, I'll either post them here or on the forum. When you all know what you want to answer, you can email me and I will compile them all into one big file and send it over to Jennifer so she can share them with her students. Fun, right?