We here at GLAHW have met so many amazing and talented people out in the big wide world (you know, OFF the internets) and thought it was high-time we introduced them to you. Who knows? You may end up discovering a favorite new artist, photographer, writer, or all-around awesome human.
This time Peggy talks with one of our favorite artists, Steve Bejma. (Steve's website:  http://www.classichorrorsbystevenbejma.com/)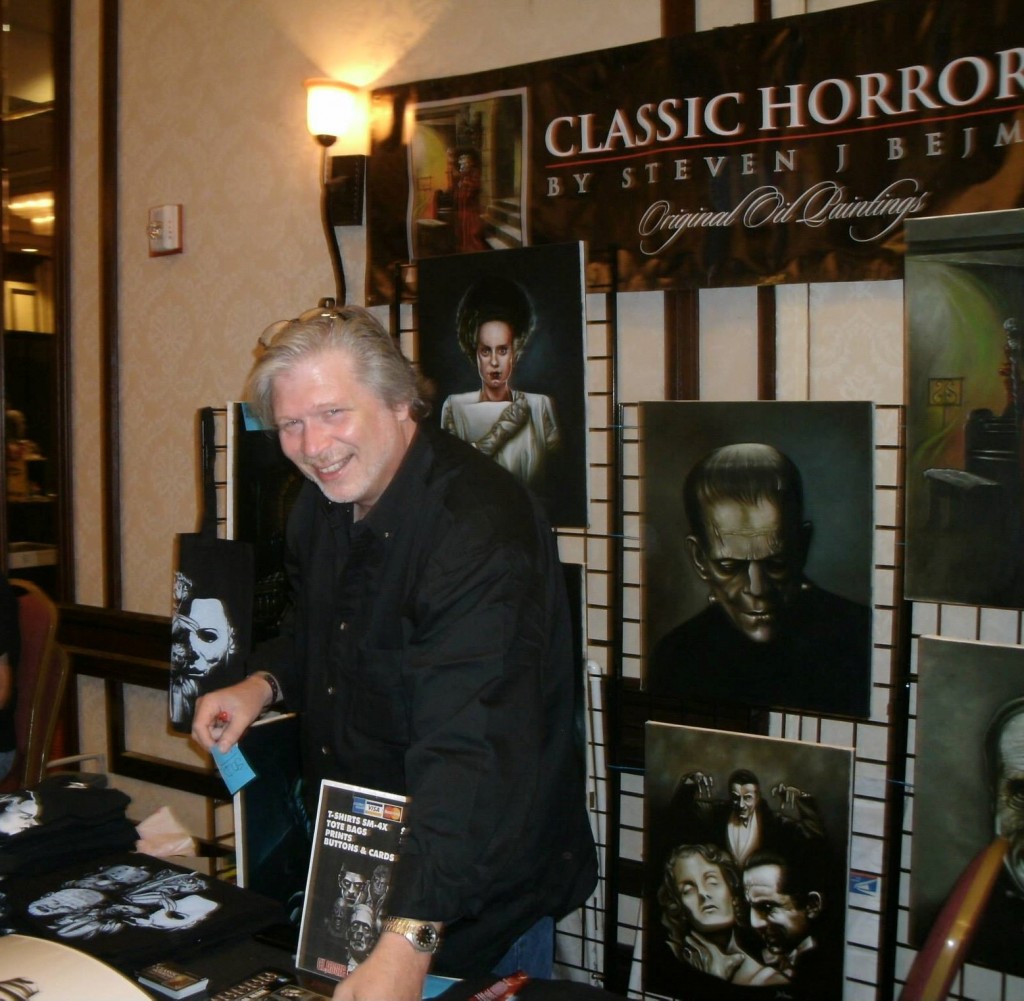 GLAHW: How long have you been painting/drawing?
Bejma: I have been drawing and painting most of my life, but only seriously for the last 10 years.
GLAHW: Why did you choose the horror genre?
Bejma: I stick to the horror genre mostly due to the fact that my father was a horror movie nut, and when I was a boy he would always tell me, "Hey, Frankenstein is on Sir Graves Ghastly. Let's watch it." It was kind of our thing, just me and my dad watching old monster movies.
GLAHW: Were you inspired by a person or event to begin your artistic career?
Bejma: I'm not really sure of anything in particular that inspired all this. It was just something that I always did, drawing on desks in school, doodling on all my school work papers. I guess the movies I watched with my dad had a very big impact on me, that's the stuff I always drew. It seemed a lot more interesting than drawing birds and trees.
GLAHW: Does your family support your creative endeavors?
Bejma: My dad was always very supportive of my artwork. My mom, however, always was trying to get me to do normal things: landscapes, trees, birds, boring stuff. I guess I can understand her concern for my mild obsession with all things creepy.
GLAHW: What is your creative process?
Bejma: My creative process is very simple. I paint things from my favorite movies, characters or actors. Sometimes something just pops into my head and I have to paint it immediately or I have an idea for a subject but can't figure out how it should look at first, so I let it roll around in my head like a tumbleweed for a while, until something presents itself. Usually it comes from out of left field and bam, there it is!
GLAHW: Where do you see yourself, as an artist, in five years?
Bejma: When I started painting again after 20 years of doing nothing, I thought I would give myself 5 years to see if I could reach some sort of level of success. And I had a very loose definition of success. If that was selling enough art at conventions to keep going or be able to get to do magazine covers or DVD covers, things like that. On my fifth year I got my first magazine cover for Scarlet Film Magazine and it's been a slow but steady increase in work every year. Where I will be in five years is hard to say but being able to paint full time is the real goal, I suppose. From what started as a small hobby has bloomed into what is now about 75% of my business.
GLAHW:  Do you have a job outside of painting/drawing?
Bejma: I have a small graphics company during the day. That's all more commercial stuff – logos, t-shirt designs, things of that type.
GLAHW: How often do you paint/draw?
Bejma: I make it a point to paint every day. Aside from being very enjoyable and relaxing, I always have a project for a DVD cover or magazine cover that I'm working on so there is always a deadline looming in the near future. But when I get home, have something for dinner, acknowledge the family unit, I get to go down into my studio, turn on some music or old radio show, and paint. It's very relaxing. Work, but fun work.
GLAHW: Do you keep a list of ideas for future projects?
Bejma: I have a long list in my head of things I want to do. And I'm always looking for reference materials while I'm at work, Googling movies, actors. I print out the pictures and hang them up in my studio and look at them until the obvious hits me.
GLAHW: Do you paint/draw outside of the horror genre? If so, what else have you done?
Bejma: Occasionally I do "normal" stuff. I've done portraits for friends and a few still life things, but they still always come out looking a little creepy if you ask me.
GLAHW: Horror related images/monsters/etc. can be pretty terrifying. Have you ever seen a psychiatrist, or has anyone ever thought you might need one just because of what you create?
Bejma: My work always seems to come out very dark and people that don't know me assume that I'm a dark, moody, sullen kind of guy. Totally not the case. I'm an easy going, good natured person. At least I think so. I think my mom always had concerns about my mental well being.
GLAHW: What do you think makes good art?
Bejma: Good art is simple. If you enjoy making it, then it's good. I can't get into if this person is good or that person is terrible. There is an obvious level of talent you have to have if you want to do more visible work like magazines and DVDs but I can only encourage anyone who enjoys painting, drawing, sculpting, or whatever it is that you enjoy, to just keep going.
GLAHW: What piece of art, if any, most influenced your life – and why? Are there any artists (living or dead) that you would name as influences?
Bejma: Frank Frazetta, Ken Kelley, Basi Gogos had a big influence on me as a child. They were doing all these magazine covers like Creepy, Eerie, Vampirella, and Famous Monsters. When I saw those I knew that's what I wanted to do.
GLAHW: What are you working on now?
Bejma: I just finished working on a DVD cover for a 70's biker movie called Bad, Bad Gang! That was a lot of fun. Bikers and girls in bikinis – next best thing to monsters.
GLAHW: What have been some of your favorite pieces (that you created)?
Bejma: You get that a lot, which one is your favorite piece. Best answer is always the last one I did. But there are always paintings that for one reason or another are favorites, usually because of some technical aspect. Like something that's particularly difficult for you to do but you managed to pull it off well. I didn't like to do hair much so I would just sort of sketch it in. But I chose to do a piece that had hair that was very important to the painting so I had to finally figure out how to do it better. I did so that's a favorite piece because it was something I didn't enjoy doing but I figured it out.
GLAHW: Where can people find your work?
Bejma: You can find me or my work hanging around at comic cons, horror movie cons. I have several paintings that are going to be featured at "The Art of Framing", an art gallery in Troy starting on September 18. I'm very excited about that. Several DVD covers that I do for Synapse Films will be out this year and if you look around at any local party store, you can find my work on Dead World's Zombie soda pop. I did the zombie on the orange pop label. My website is www.classichorrorsbystevenbejma.com and of course, on Facebook under my name or Classic Horrors.
Now for some probing (heh) into other areas of your life.
GLAHW: Tell us something interesting about your past.
Bejma: I'm not sure there is anything terribly interesting about me! I think I'm kind of boring.
GLAHW: As a child, what did you want to do when you grew up?
Bejma: I always wanted to be an artist. I didn't know how that would manifest itself but it's what I always knew I would be.
GLAHW: Are you religious?
Bejma: No, I'm not a religious person. So many conflicts within organized religion. I'd like to think I'm spiritual in some way but let's just say I'm conflicted.
GLAHW: Give us three "Good to Know" facts about you. Be creative. Tell us about your first job, the inspiration for your art, any fun details that would enliven the page.
Bejma: My first job was working in a screen printing shop at the old age of 13. It was great. And doing art is the only job I've ever had. Lucky, huh? The biggest inspiration for my art is still my father and my Aunt Mary Jane, both horror movie and comic book nuts. They have both passed and are always my inspiration and I think of them all the time. After every painting I finish, I always think, "Yeah, dad would like this." I'm also a very shy person. I know most people wouldn't see that because they see me at conventions and I obviously have no trouble talking but it's something I've had to learn to do.
(Peggy's Note: I don't believe you, Steve. I just don't believe you.)
GLAHW: What truly scares you?
Bejma: What truly scares me would be to actually have to have a real job and grow up.
(Peggy's Note: Now THAT I believe.)
GLAHW: What sort of hobbies are you into?
Bejma: Not a lot of time for anything else. Painting is my hobby and my passion. I do read a lot and I like to cook and, of course, I like to watch bad horror movies.
GLAHW: What else do you want your readers to know? Consider here your likes and dislikes, your interests, your favorite ways to unwind — whatever comes to mind.
Bejma: Support art of all kinds. If you go to a convention, go talk to them. We put ourselves out there hoping to make a connection, get people to see our art or read our books or whatever it is you like to do. The celebrities get enough attention, don't they?