Over a week ago, Motor City Comic Con was in town, bringing with it celebrities, crafters, and most important – Comic Creators from around the industry. MCCC is a highly anticipated pop culture exposition held annually the third weekend in May. This year, over a record breaking 55,000 people met with creators, cosplayers, and celebrities to buy. sell, and squeee over their favorites.
While a lot has changed, from the size of the venue to the caliber of the celebrities, the main goal has remained the same – be the premier pop culture exposition in Southeastern Michigan. Sure there are larger conventions in Chicago and Indianapolis and Columbus, but this one belongs to Michigan. GLAHW has attended the convention as vendors for the past 8 years, selling horror anthologies and members' works at booth space designed to be enticing and intriguing. It's a gruelling job, but one we enjoy doing and MCCC always feels like the Thunderdome of conventions  fro the upper Midiwest.
Because of restrictions by both guests and representatives of the guests, as well as time crunches due to the massive crush of people, I was unable to really get out and see as many celebrities as I would have liked.  I also don't have photos of celebrities taken from afar – it's rude (and not allowed) to snap without permission. I do however have personal photos of fun Cosplay I saw throughout the day. Other media organizations have photos galleries (see below foer a few links)  and I encourage you to check them out!
Here then is my recap of four days in the trenches (click to embiggen the photos).
Day Thursday:
Thursday is Zero/Set up day for many vendors. The large bay doors are opened to the rear and trucks and vans file into the convention space like busy drones preparing a hive for the queen. GLAHW usually grabs two 8' table spaces, but some vendors and exhibitors have massive space set ups. Like sailors navigating by the stars, convention goers often use the tower of t-shirts as a reference point. Thursday setup is also a great opportunity to see who will be your booth buddies.
Check-in was quick and I was able to grab my exclusive Film Obsession press badge as well as my GLAHW Vendor Badge and see where we'd be set up. I wasn't part of the actual setup due to work obligations, so thanks go out to Peggy Christie and Michael Cieslak for a great table set up. We were under the giant letter "I", which made for easy directions if anyone wanted to visit us.
Day Friday:
I dressed in my best blue dress and favorite blue hair and motored down to MCCC. Arriving at 11:00 am, I joined Peggy and Michael at the booth and by noon, the VIP pass holders were filing in. Many celebrities don't arrive to the convention floor until Saturday, but that was okay, since there was already a large crowd through the doors. I spoke with the CKC Agency about setting up interviews and the very helpful Frank was able to direct me to who was and wasn't giving press for the weekend. Completely understandable, since this convention is how a lot of touring celebrities connect with fans.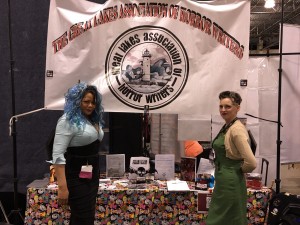 Because it's usually the less congested of the three days,Friday is a good meet and greet day for Vendors to familiarize yourself with your neighbors, plot the best course for the restrooms and see where all of the celebrities are seated in case you have a chance to break away for a quick autograph. Not a ton of cosplayers visited Aisle I, but we did see the back end of Captain Ohio.
Michael Nesmith of the Monkees was there, Ivy Doomkitty and Alloy Ash signed and took photos with fans amd comic artist and writer, Alan Davis had a line that never seemed to diminish with admirers eager to talk to him.
Meanwhile at the GLAHW table, we're doing a brisk walk-up business. Writers are a hard sell at an exposition, because unlike visual art or collectibles, what we sell is hidden between sheets of cardstock, with enticing but vague covers. That's why GLAHW does its own version of visual art with theme cosplay days and fancy dress. If they can catch your eye, maybe you'll be interested in picking up a few books, or at least business cards to check them out later.
(I did my best to help)
Day Saturday:
This is Insanity Day! Up and on the road by 8:30, through the doors at 9 am, first customers shortly after 9:30 – and then the world exploded. The crowds were expansive, with lines around the block, overflow lots at capacity. There were two cancellations of note, Billie Piper and Robin Lord Taylor, and while there were disappointed people, the remaining star power was staggering.
Jon Bernthal and Elden Henson from Daredevil smiled and greeted fans warmly. Jon E. L. Tenney and Dirk Manning both had standing room only panels in the expanded convention space. Lena Headey, Brent Spiner, and Katrina Law kept their fans laughing and entertained on their respective panels. The truth may have been out there, but Mitch Pileggi and William B Davis kept things strictly confidential – confidentially amazing!
(I don't know what that means, either)
There was no shortage of great talks and fantastic conversation. The cosplay contests brought out the creative and the dazzling.
One disappointment was the cancellation of the Walking Dead Panel. Representatives of AMC pulled the plug on this one due to the actors being under contract and unable to talk about the show during the off-season. Lots of unhappy fans,
As for the GLAHW crew, The Theme Day Creepy Dolls, so Blade, a broken Ballerina, and a Voodoo doll worked the booth.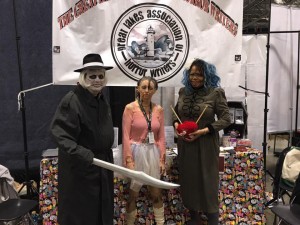 So many fans and readers stopped by to pick up the latest issues of Erie Tales and Ghostlight, and works by members. The horror was the data signal inside was extremely poor, likely being due to 30K people trying to update photos and text family at the same time. Sprinting outside to to credit cards was a great way to get in daily steps!
The most adorable Supergirl ever (mild-mannered Lola) posed with Peggy and it was so sweet, we all got meth mouth.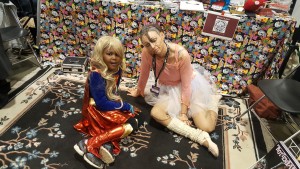 I saw a very cool cosplay of from the Rooster Teeth anime, RWBY
And Louise and Tina managed to slip away from Bob's Burgers to take pictures of butts. (not really, but maybe)
The Little Mermaid's Ursula dazzled poor unfortunate souls

It's not a convention until Disney Princesses show up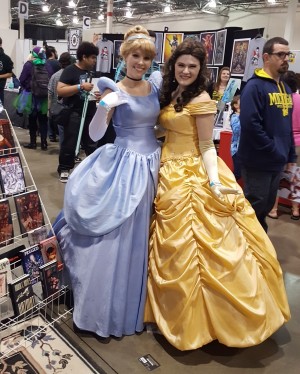 Everyone's favorite WNTV Community Radio Host, Cecil, found himself in Mitch-i-gan (is that even a real place?).

A jaw dropping Annie Titan (Attack on Titan)  wandered by. Lots of members of Scout Regiment and even a soldier from Garrison Regiment were nearby, so I hope It was okay.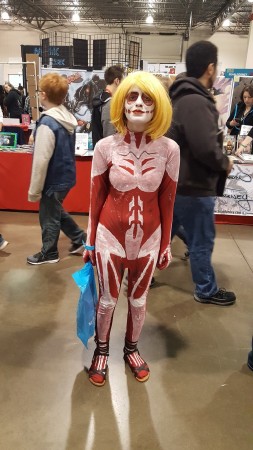 This would have been the best day for interviews, had I been able to land any, however with the sheer volume of people it just wasn't possible. Many celebrities had opted for no press, which is absolutely their right, and even the few times I was able to break away, the celebrities I would have like to talk with were dealing with autographs and pictures.
As the day finally wound down, Ian Zeiring walked down our aisle and smiled and waved. He mouthed the words of out banner as he walked past. He knows who we are. Now is the time to strike!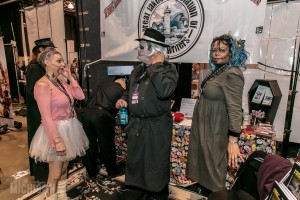 Day Sunday:
One more day. We can do this.
This is a shortened, getaway day for many of the celebrities. It's has a much lighter load than Saturday, and it's a great bargain day for those looking for a deal. Lots of celebrities leave by 2or 3 and the show closes at 5. Kiddie cosplay contest highlighted the adorable I did not envy Ivy Doomkitty her job as Judge. Lea Thompson spoke about her time on the Back To The Future set with audience questions and answers and Alan Davis had a panel on Comics writing. The expanded hotel-convention center allowed for multiple panels and contests to run concurrent with the main convention floor activities, so ther ewas plenty of room walk, decompress in the lobby, or hit any number of available rooms for gaminh and anime movies.
I dresses as Zoe Washburne, complete with replica Mare's Leg, so lots of pictures of me exist out there.  I try not to think about it.
Bob brought most of the family by the table (probaby left Gene and Tina back at Bob's Burgers)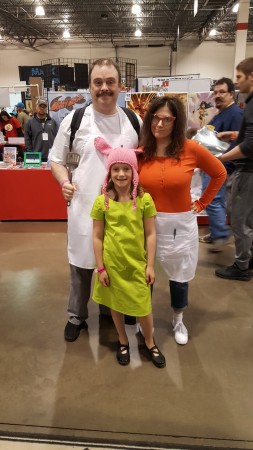 Brent Spiner was still signing nearly until 4:30, but his sign had pretty much had enough about 3:00pm.

The folks at the GLAHW table still did brisk business, selling anthologies, memberships and talking to fans and admirers.
At 5:00pm the show was over, and a few celebrities could be seen walking the quickly emptying floor, seeing things they missed and making final purchases. We broke down the booth, put away the snacks, and packed up our books. We said goodbye to our aisle mates and promised to meet again at upcoming shows. Convention vendors are a lot like carnies – we're a twisted extended family and we totally get the life.
We're totally looking forward to Motor City Comic Con 2017, and we can't wait to do it all again.
Life in Michigan had a great write up and gallery 
The Oakland Press has a fun gallery from Sunday's festivities
*Dislaimer, MontiLee has been a member of GLAHW since 2008
Unelss otherwise noted, Photo Credit @ MontiLee Stormer, all rights reserved.