Cassie Carnage here. Just wanted to let you all know that my first ever Horror eBook, WE ARE ALL MONSTERS, is up on Amazon and available for free for a limited time.
Deal runs Saturday 3/18 until Wednesday 3/22.
You can get your free copy here: http://bit.ly/waam11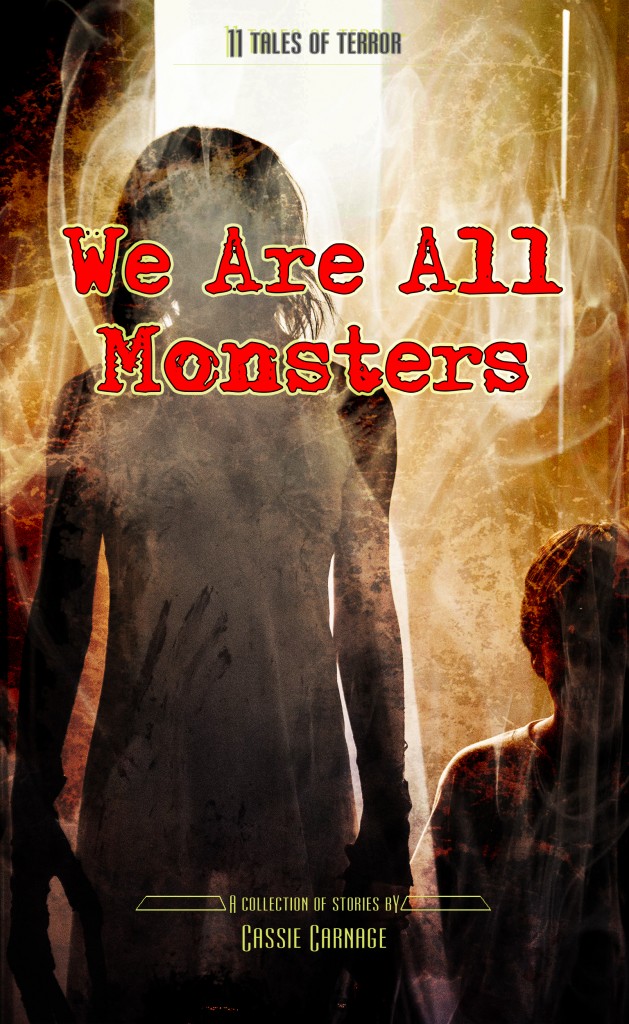 "We Are All Monsters" by Cassie Carnage contains 10 original stories from a unique new voice in horror; plus an exclusive bonus introduction chapter to the Weird West monster hunters known as The Three Thieves of Night and their dark, corrupted world of gun slinging magicians.
Inside you will find vengeful ghosts, greedy demons, madness inducing gods from the Time before Man, an evil witch trapped in the mummified remains of a saint, were-sasquatches, haunted water heaters, psychics, vampires and much, much more!
Inside you will find:
HER ROTTEN EMBRACE
What the swamp takes, she also gives back.
CANCER'S REQUIEM
Cancer comes back to collect a widowed husband.
THE RING
What would you do if you could see ghosts, and your best friend dies?
DROSOPHILA (a horror poem)
Are there fruit flies everywhere, or only in the demented mind of Malachi?
THE DYING LIGHT
Two kids hear an urban legend about a monster in an abandoned copper mine. When they break into the mine, they accidentally wake it up.
HOT WATER
Sometimes, it's not your imagination. Sometimes, there really is something inside your water heater…
BLACK HEARTS AND BLOODIED LIPS
Two bounty hunters discover unexpected package while investigating a nest of vampires.
THE CORNUCOPIA
A homeless the preacher finds a way to feed the starving people of his flock. But not all is what it seems as the magical golden box that leaves a feast each night, but only after a human sacrifice.
WALPURGISNACHT
A mummified saints body. A witch. And a terrible curse.
OF 'SQUATCH AND MAN
Three college guys go camping and discover that one of them is not what he seems.
THREE THIEVES OF NIGHT PRELUDE (Bonus Section)
A psychic swordsman and a man with an incessantly itching wound that won't heal discover that their brother-at-arms is missing.
If you like Tales from the Crypt, Clive Barker, Stephen King or Anne Rice, you will love WE ARE ALL MONSTERS.