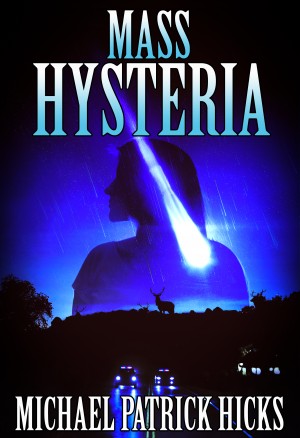 Today's the day! Mass Hysteria is officially available and on sale everywhere. The eBook costs only $3.99, and the paperback retails for $14.99 but has been discounted pretty nicely at both Amazon and Barnes & Noble.
The eBook edition of Mass Hysteria can be found at the following:
Here's the synopsis:
It Came From Space…
Something virulent. Something evil. Something new. And it is infecting the town of Falls Breath.
Carried to Earth in a freak meteor shower, an alien virus has infected the animals. Pets and wildlife have turned rabid, attacking without warning. Dogs and cats terrorize their owners, while deer and wolves from the neighboring woods hunt in packs, stalking and killing their human prey without mercy.
As the town comes under siege, Lauren searches for her boyfriend, while her policeman father fights to restore some semblance of order against a threat unlike anything he has seen before. The Natural Order has been upended completely, and nowhere is safe.
… And It Is Spreading
Soon, the city will find itself in the grips of mass hysteria.
To survive, humanity will have to fight tooth and nail.
---
What Readers Are Saying
"Fun, horrible fun, from start to finish." – Horror Novel Reviews
"It's fast paced, action-packed, and bloody. Really, almost everything a horror gore-hound could want. … Undeniably talented, Michael Patrick Hicks shows evidence of a rather deliciously depraved mind…" – SciFi & Scary
"Mass Hysteria is a hell of a brutal, end of the world free for all. A terrifying vision of a future gone mad with bloodlust, Mass Hysteria will haunt your nightmares." – Hunter Shea, author of Just Add Water and We Are Always Watching
"Mass Hysteria was a brutal horror novel, which reminded me of the horror being written in the late 70's and, (all of the), 80's. Books like James Herbert's The Rats or Guy N. Smith's The Night of the Crabs. There are a lot of similarities to those classics here-the fast paced action going from scene to scene-with many gory deaths and other sick events. In fact, I think Mass Hysteria beats out those books in its sheer horrific brutality." – Char's Horror Corner
"I'm telling you now, this book isn't for readers with weak stomachs. It is brutal in all the right ways." – Cedar Hollow Horror Reviews
Purchase Mass Hysteria